Mothers are our first love and our first example of what grown ups are all about. They teach us to clean our rooms and wash our faces and prepare our little minds for the world ahead, but their lessons don't end when we turn 18. The life they lead by example still contains a message about the next stage in life.
My mother just turned seventy last month. She's not in the greatest shape, to be honest, and is just three months out from her spinal fusion surgery. That was the one where they removed part of her spine and replaced it with metal.
My mother's hair is pure white and she wears glasses. She is the kind of person who lets other people talk too much (including me) and always offers to wash the dishes while the rest of the family goes and does something else more fun. She is bookish and loves to play Free Cell solitaire on her phone.
A week or so ago she took her partner and her paperwork about the metal rod in her back and the doctor's note about her titanium hip and showed them to TSA's X-ray screeners and boarded a plane to Africa, because in spite of looking like a librarian and acting like the worlds sweetest Nana she is still a woman who has dreams, big adventurous dreams. The twenty year old woman who traveled to Mexico alone still resides inside her.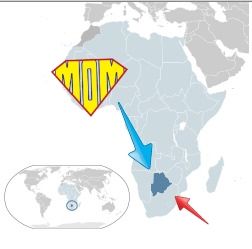 My atheist mother is on safari in Botswani at the moment, because she said that Africa is the most spiritual place on earth, and she needed to return one more time, in spite of being 70 and being held together with metal. She says it is truly the birthplace of creation, and you can feel it in the soil and see it in the savanna. My mom's cool like that.
She's also a little crazy like that. This is the person who quit her job, sold her house, and went to live on a boat with her life-mate at age 50 in spite of not really knowing how to sail. Oh, did I mention they brought two dogs and a cat with them?
She's also the person who was mugged in Paris and chased down the pickpocket and beat him over the head with her umbrella, in spite of having only about $20 in her wallet.

She is the same person who got stranded in Thailand a few years back due to political unrest. (but she had a great time anyway.)
Perhaps I need to talk less and listen more when she comes back from her latest sojourn. There is obviously much I have to learn from this woman who is always content to let everyone else hog the spotlight.