Yes, you read that right. Seize the lemur- until the devil cow!
I spent a lot of my married life regretting things I didn't do that I no longer had the chance to do, and both times when i got divorced I swore that I would take any opportunity to try something new that presented itself. I wasn't going to be couch girl for the rest of my life.
Except that I'm lazy a lot. And I think I have less energy and motivation than most people. And, dammit, my couch is really nice. It took me years to teach the children the fine art of lying on the couch all day, and I don't want their skills to get rusty.
But deep down inside, I know I am not getting any younger. I don't have a written bucket list, but I do have a firm desire that I want to be the person that says "YES" to adventure.
This week I was invited to join a group of women doing the Dirty Girl mud run. While I think of myself as someone who would always support events called Dirty Girl, I get the idea this is more the mud kind of dirty than the stripper heels kind of dirty, but I am in favor of mud, or I used to be back when I was a wild and unkempt girl-child.
3. I acknowledge that the Dirty Girl™ Event presents extreme obstacles including, but not limited to, difficult climbs, fire, mud pits, water obstacles, and hills.
My ex ran the ToughMudder a few years back, and I had to say that I was a bit jealous. My ego doesn't allow for my ex-husband to be more bad-ass than I am. Inconceivable! Maybe I should do this thing. I want to be that tough dirty girl climbing obstacles and running.
Wait - running? In between the fun obstacles which may or may not include fire and mud pits, I have to run?
If you have read my blog, you will know that my boobs clap when I run up the stairs, let alone for 5 whole Ks. And also did I mention that I am lazy?
6. I acknowledge and agree that participation in the Dirty Girl™ Event requires extreme feats of a person's physical and mental limits and carries with it the potential for death, serious injury or property loss.
Mental limits? My mental stamina is also lacking. As in, I am the girl who says, "This is stupid and it will hurt. Why bother?" Also, I whine a lot. Property damage - well, I wasn't going to bring any property with me. That's dumb. Who carries a laptop to one of these things?
12. I assume all risks associated with competing in the Dirty Girl™ Event, including but not limited to falls, contact with other participants, negligent or wanton acts of other participants, completing all obstacles, defects or condition of premises, the effects of the weather, including high heat and/or humidity, cold weather, rainy and wet weather, tornados or any other adverse weather conditions, and all such risks being known and appreciated by me.
Ooh! I might have other participants acting wantonly on me! Now I'm definitely in. Maybe dirty girl will involve stripper shoes after all? No?
This definition was brought to you by Apple's built in dictionary
Well, that first definition is NOT the kind of wanton behavior I am in favor of. Perhaps I can specify what wanton-ness is preferable to the other participants in advance.
15. I acknowledge and will abide by the rule that no wheeled baby conveyances or other wheeled devices of conveyance, are permitted in the race.
OK, What mother would ever see the words mud pit and fire and think, oh, I'll just bring my stroller? Who do these people think I am???
But if I sign up I will have to buy some new shoes. Something practical and athletic, because I don't own anything like that. Perhaps in a fine shade of orange. New shoes = win. Plus I think i get a free t-shirt.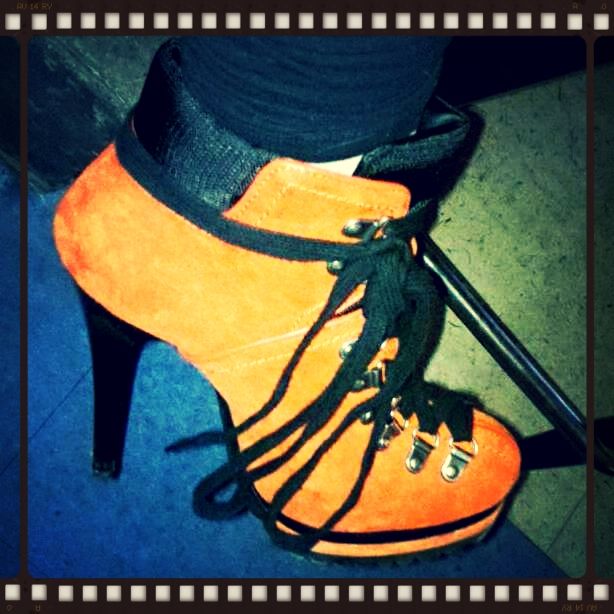 I am assuming these will not work.
OK,OK I hit the "submit" button. After all, I want to say YES to things that get me bad-ass points and a free t-shirt. Besides, I have months to
back out
train.