I am afraid I did not buy enough Christmas presents this year. It is always a struggle between not wanting to buy too much and over-spoil them: set the bar too high for the rest of their life, bring more useless things into the house that will be played with for five minutes and then forgotten - and the fear of buying too little and breaking their tiny, hopeful hearts. I buy my kids too many toys as it is. There is no reason for them to hit the motherlode on Christmas, but inside me still lives the child-me, when every Christmas was overcome with the splendor of many colored packages under the tree, overflowing the allotted space and flowing like a frozen tide over the living room rug.
I don't know how my parents did it. I know now how little money we had. It's not that we ever got everything we wanted -our greed was too large for that the ever be possible - but the dreams that filled our heads every Christmas Eve were always exceeded by the reality of Christmas morning. I want my children to feel the same wonder I always did on Christmas morning.
The memory of my childhood Christmases weighed heavily on me the first year I was a single mama. I was working two jobs and didn't have much extra money to spare. I didn't believe in credit card debt, and I didn't want to ask my parents for extra help for Christmas, as they had already done so much for me. We had just moved from the brand new three bedroom/three bath house we inhabited when we were an intact family into a much smaller, though quainter, house, with only one bathroom that didn't have an exhaust fan, the absence of which my three year old found incredibly disturbing. I wanted to provide a Christmas big enough to fill his heart with joy, and equal to what his father and his father's many relatives would provide at his house, and I didn't know how I was going to do it.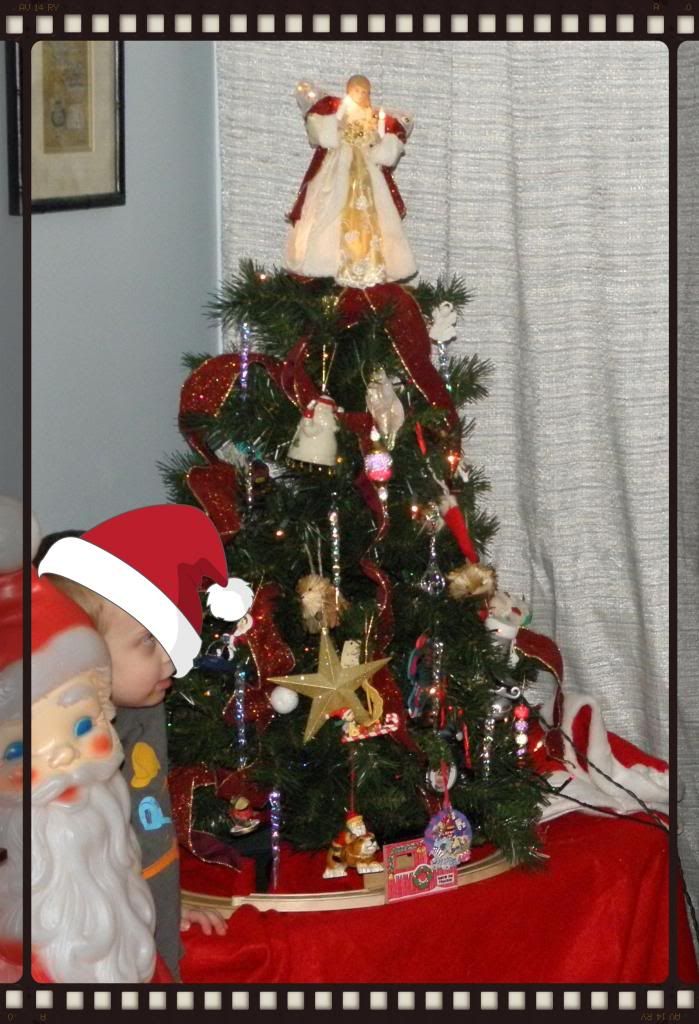 I bought some battery operated musical toys for the baby - the nonverbal can't express their desires and are therefore easy to shop for - but I didn't know what to get my big boy. He was just barely three, newly potty trained, freshly enrolled in preschool. He loved animals and Thomas the Tank Engine more than just about anything.
While shopping for some clothes at the consignment store, I mentioned to the owner my Christmas fears. She was a mother of four children, and had been a single mother for a number of years herself. She went in the back room and reappeared with a large rubbermaid container.
"This just came in. It's all the Thomas take along trains and a track. If you take all of them and I don't have to package them all up, you can have them for $75," she said. I only had a budget of $100 for both boys, but $25 was plenty for a baby that only really wanted a big cardboard box and whatever his brother was holding. I took the trains home, and carefully wrapped all twenty five trains individually. I had the large pile of my dreams under our tiny, tabletop Christmas tree, and I was able to do it all on my own.
We are now on our fifth Christmas since the break up, long enough to have established our own family traditions. We even have a full-sized tree. It feels normal now, and the boys consider "double Christmas" to be one area where having two houses is far superior to having just one. Daddy and I talk frequently about what presents we are each buying, both so that we don't duplicate, but also so that we don't overshadow each other. We try to maintain a balance between the houses and not use the holiday to one-up each other.
But still, I always worry that I have not bought enough. I make lists, I count presents, I recount presents, I take the presents out of hiding and look at them and reassure myself that there are enough to fulfill my children's expectations. This, I think, is not universal to being a single parent, it is shared by parents everywhere. My kids are older now, and their wish lists are too long for any person to ever fulfill all their hearts desires. The big one copies and pastes items from online stores into one astronomically large letter, and then he sits and types out the letter his little brother dictates, which includes things like "a little plane I can fit in that really flies." It is up to me to decide what they will be happy with and what they can live without.
I have never again had the peace of that first Christmas, when my budget was magically enough to buy every single train for my big, though still little, boy. My mother always said that, "God looks out for fools and drunks," but I am glad that first year, the Powers That Be extended that to look out for a newly single mama as well.
I am lucky that now my Christmas insecurities have resolved into the ordinary ones common to most parents. I no longer worry that I can provide enough, or that I am enough.