"Let me go put my eyebrow on."
That's this week's version of my Grandma's, "give me a minute to put my face on, Honey."
I have been waxing my eyebrows for years…like a solid two decades worth. I use the same Sally Hansen wax strips that I always have. I have it down to a science:
1. Rub wax strips together to heat up, while channeling my inner Mr Miyagi.
2. Trim wax strip using scissors. I have done this so often that I don't have to even look at my eyebrow. I could trim my waxstrip in my sleep.
3. Apply to one side, careful to let the extra too-long part remain free and waving in the breeze.
4. Rip off wax strip and admire all the little hairs…OMG THAT"S HALF MY EYEBROW ON THERE!
5. Confirm in mirror that I did just rip off an inch of eyebrow unintentionally, and that all the hairs I wanted to remove are, in fact, still attached to my face.
6. Blink back tears and tell yourself it will be OK.
7. Fill in empty space with eyeshadow and run to the store to purchase pencil.
8. Pencil in eyebrow and ask everyone I come in contact with if they can tell.
9. Stare for long periods at eyebrow looking for new growth before bed.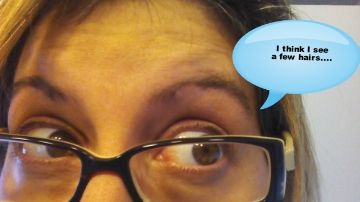 10. Forget about eyebrow entirely the next day until I am out in public and can do nothing about it.
It's just hair. It will grow back. It's not a
chalazion cyst
after all.